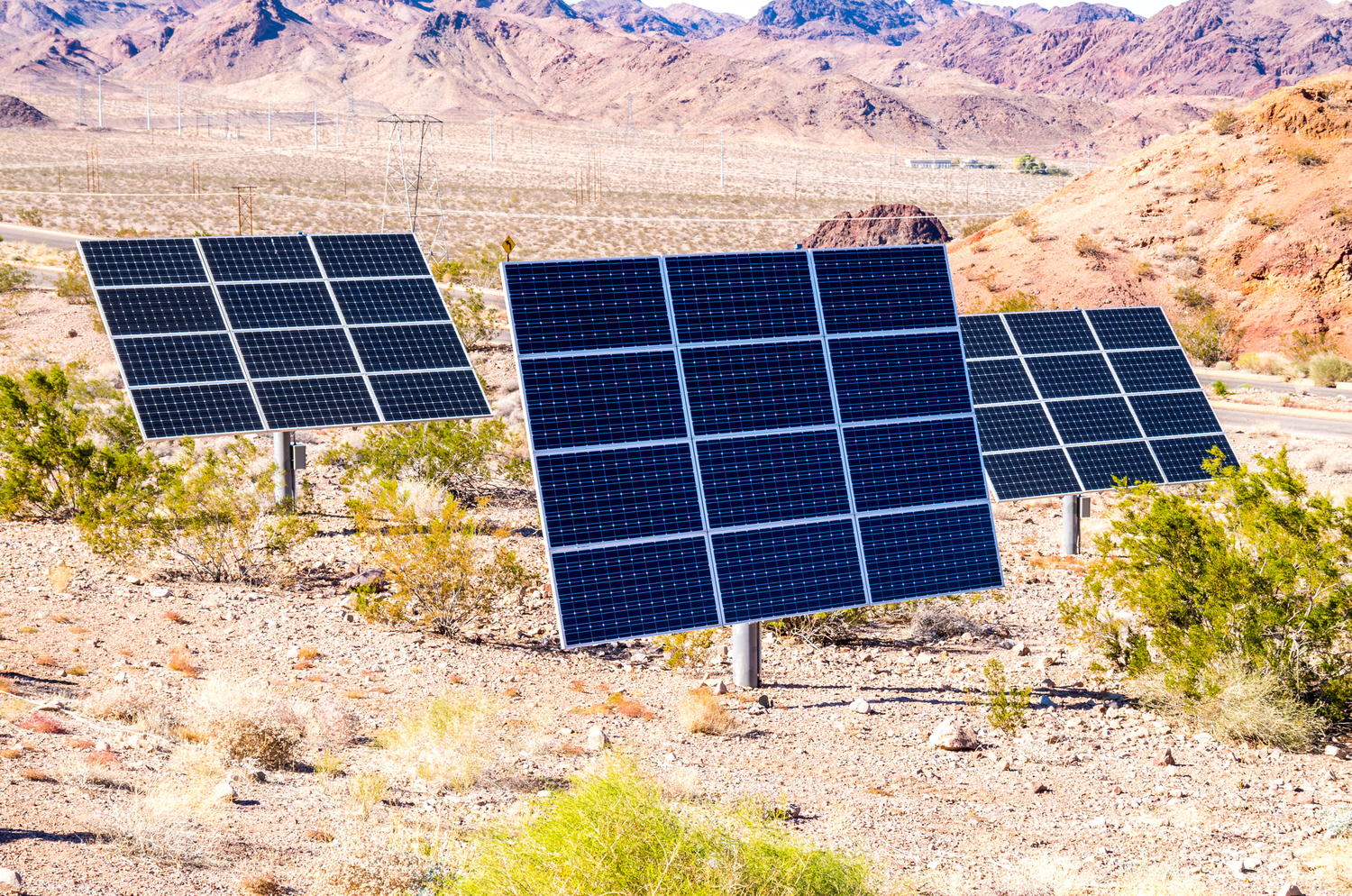 Clean & Reliable Energy
Energy use in Clark County comes in many forms, from cooling buildings and powering traffic signals, to lighting offices and using appliances. Having clean and reliable energy means that we need to reduce how much we use while also transitioning to cleaner power sources.
Efficient County Operations
What Our Energy Use Means
When we use energy to cool our buildings, light our streets, pump our water, and drive our cars, we produce greenhouse gas (GHG) emissions. These emissions are responsible for the continued changes occurring in our climate. That's why Clark County is working to reduce overall energy demand and increase energy efficiency.
Efficient County Operations
What Uses Energy in Clark County?
In 2019, stationary energy use accounted for approximately 68% of the County's operational GHG emissions, split between buildings (33.6%) and streetlighting (34.3%). Other emissions came from the consumption of gasoline and diesel in County vehicles and from County employee commutes.
Because these sectors are responsible for such a large portion of GHG emissions, Clark County is focusing its energy efficiency improvements on upgrades to building equipment, indoor and exterior lighting, and streetlighting.
Efficient County Operations
Building Energy Savings, 2013-2019
The County's ongoing efforts to introduce energy efficiency measures across 80 of its 112 buildings have already yielded significant energy savings over time: 8,541 megawatt-hours (MWh), to be exact!
That's enough power to keep the Bellagio fountain's light display going 8 hours a day, for a whole year!
Efficient County Operations
Efforts to upgrade lights with highly-efficient LEDs are responsible for a significant portion of energy and GHG savings across the County's operations. Clark County has already retrofitted 1,500 traffic signals and 11,010 streetlights with LEDs, contributing to a 3,034 megawatt-hour (MWh) energy use reduction between 2017 and 2019.
Once the remaining 57,120 streetlights are upgraded to LEDs, the County could see an additional savings of more than 28,000 MWh and a GHG reduction of 13,000 metric tons of carbon dioxide equivalent (MTCO2e). That's equivalent to the amount of carbon removed from the atmosphere by over 25,000 acres of forest each year!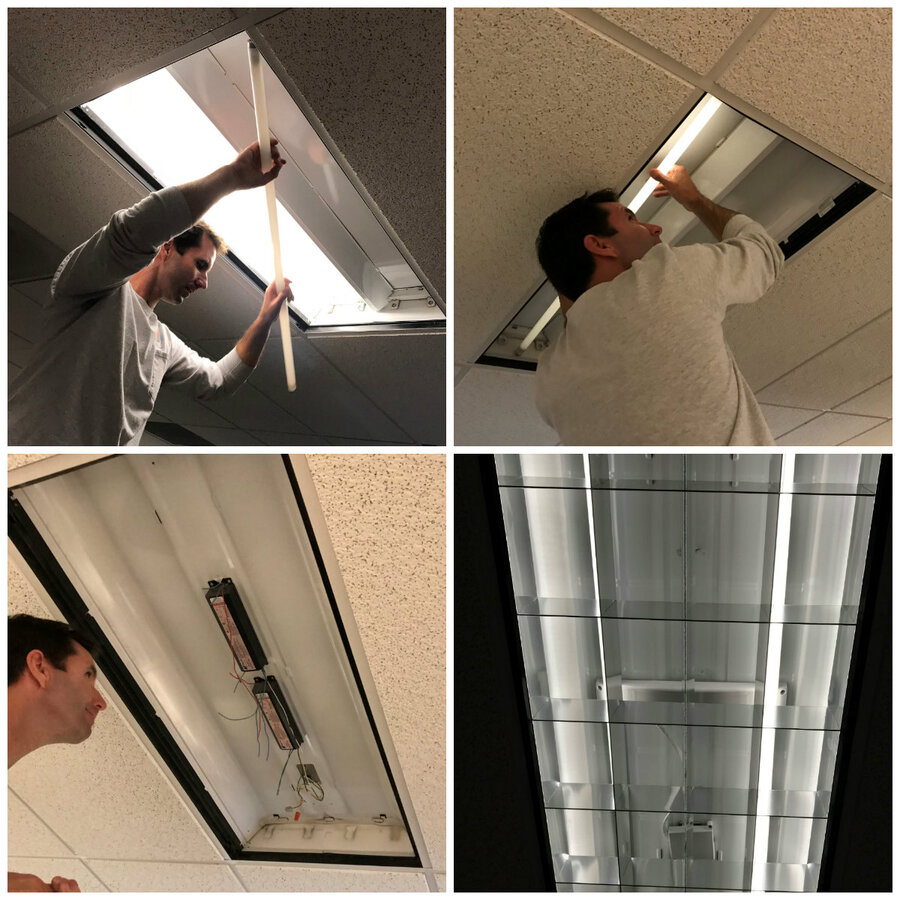 Efficiency Pays!
If the County completes lighting upgrades throughout all its facilities, it could result in an estimated savings of 1,600 MWh and reduction of 750 MTCO2e. That's an annual cost savings of approximately $149,500!
Learn how you can save energy with lighting upgrades!
Energy Generation in Clark County
Clark County must also shift the source of its energy from fossil fuels, such as natural gas, to clean, renewable energy, like solar. The recently enhanced state-wide Renewable Portfolio Standard, currently set to 50% energy production from renewable sources by 2030, will support this shift. In fact, the County's operational energy is expected to be sourced by 100% Nevada-based solar energy through NV Energy's Optional Pricing Program Rate, beginning in 2021.
Energy generation capacity is measured in kilowatts (kW).
Nevada has the nation's highest solar capacity per capita rate in the country and ranked 4th for solar electric growth between 2007-2016! Solar power takes advantage of free energy from the sun while reducing the need for energy and associated costs during times when energy is in high demand.
Clark County has six solar arrays on its property, five rooftop and one ground-mounted, totaling 341 kilowatts (kW) in generation capacity. That amount of capacity would generate around 584,000 kWh per year, enough to power about 47 homes in Clark County.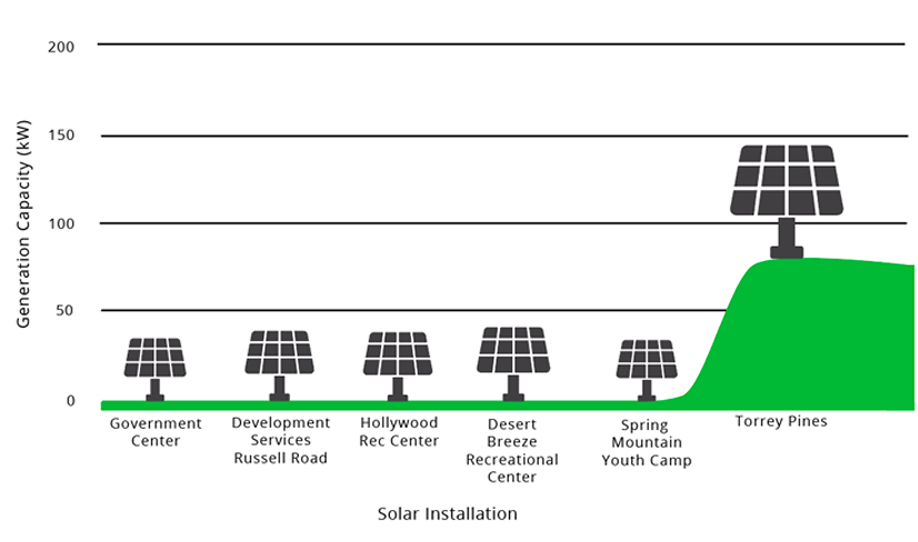 Support an Efficient & Resilient Energy Future
You can help us go All-In to reduce energy consumption and increase reliance on renewables. Here are some key steps to take.
---
See if you are eligible for community solar. (Applications re-open Sept. 2023).
Reduce your carbon footprint and your energy bills with solar on your home or business.
Store your extra renewable energy to reduce your emissions and protect against outages.